Department of Obstetrics and Gynaecology
Vision
To be a top-class department for the pursuit of excellence in knowledge and character development and to eradicate maternal mortality among women in Obstetrics and Gynaecology through teaching, research and clinical practice.
Mission
To provide a conducive environment for teaching, learning, research, and development, where staff and students will interact and compete effectively with other counterparts globally and to ensure the best reproductive health and pregnancy care for our women with excellent research and medical programs with high quality and evidence-based clinical care.
The Department of Obstetrics and Gynaecology is a unique and dynamic one. With expertise in both the surgical and non-surgical aspects of Medicine, as well as caring for "two patients in one" within the practice of Obstetrics, our students and staff enjoy an atmosphere of clinical skill acquisition and high-quality research governance.
The Department is renowned for various academic and clinical firsts including the first In-vitro fertilization (IVF) live birth in West Africa and several grants and awards. Over the last decade, members of the department have attracted more than 3 million USD equivalents of grants and awards in gynaecological oncology, reproductive medicine, and maternal medicine. We take our core responsibilities seriously and ensure our students receive the best clinical and didactic training. We welcome you to look through our pages in order to appreciate our achievements and potential.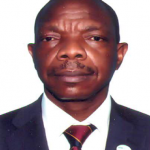 Dr. Joseph A. Olamijulo
Ag. HOD
Unilag Records 95% Success In Non-Physical PUTME